The Ombudsman of the Republic of Sierra Leone, Leon Jenkins-Johnston Esq. on Friday 18th October 2019, presented the Ombudsman's Annual Report for 2018 and the first half of 2019 to His Excellency, Rtd. Brig. Julius Maada Bio at State House.
Presenting the report, Ombudsman Leon Jenkins-Johnston said that the Office of the Ombudsman was created by Sub Section 2, of Section 146 of the Constitution of Sierra Leone, Act No. 6 of 1991; to investigate any administrative action taken, or omitted to be taken by, or on behalf of any Government Ministry, Department, Agency (MDAs), including statutory corporation, institutions of Higher Learning including the Police Force, the Armed Forces, the Correctional Service, the Fire Force and institutions set up entirely or partly out of public funds.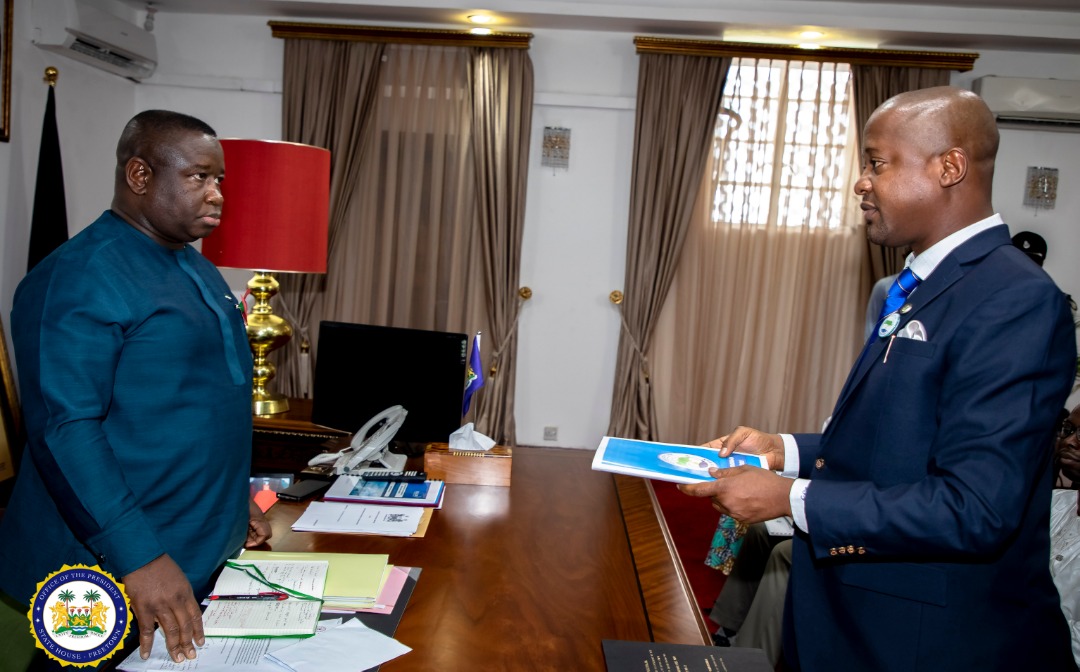 He noted that, with the promulgation of the Ombudsman Act No. 2 of 1997, the main purview of the Ombudsman is to investigate and take actions that would remedy injustices, occasioned by maladministration in government MDAs.
By Section 15 of the Ombudsman Act, he noted, he is required to prepare and submit to His Excellency the President, report on the activities of my office which Your Excellency shall cause to be laid before Parliament.
He stated that it is against this backdrop that, he is formally presenting his report to his Excellency, and noted that the report covers the period 1st January 2018 to 30th June, 2019.
Ombudsman Jenkins-Johnston revealed that from the 1st of January to 31st December, 2018 532 complaints were lodged with my office of which 330 were concluded. From the 1st of January to the 30th June 2019, 355 complaints were lodged with my office of which 142 have been concluded with the remainder still being under investigation.
He stated that most of our investigations relate to individual complaints against MDAs and such complaints are often resolve by phone calls, visits to the MDAs and mediating between the parties. However, he noted that in some instances the complaints could not be resolved unless by formal investigations where report on our findings together with recommendations for remedial actions are served on the heads of institutions and ministers concerned.
Responding, His Excellency the President Brig. Rtd. Julius Maada Bio, thanked the Ombudsman for his selfless service to the People of Sierra Leone. President Bio said that as part of the government, the Ombudsman plays a vital role in ensuring that administrative Justice is applied fairly. He stated that the Country is going through tough times, but will ensure that the office gets what it deserves. President Bio thanked the Ombudsman and Staff and encouraged them to do more for the People of Sierra Leone.
CHRISTOPHER WALLACE-JOHNSON
COMMUNICATIONS OFFICER
OFFICE OF THE OMBUDSMAN