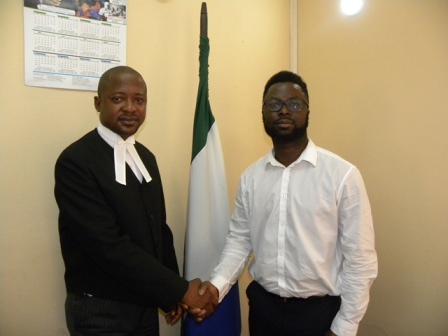 The Ombudsman, Leon Jenkins-Johnston Esq. has welcomed the New Executive Secretary appointed by President Julius Maada Bio, Kanja Ibrahim Sesay.
The Ombudsman, thanked the new Executive Secretary for taking up the challenge to join in the fight against administrative justice.
Mr. Kanja Ibrahim Sesay, is a graduate from the University of Bradford and Westminster Kingsway College in United Kingdom. He was the Community Engagement Officer, Greater London Area (GLA) Mayor of London. He served as Diversity and Inclusion Adviser for Students an Oxford Brookes University; Attainment Project Officer, University of Bradford; Team Mentor, the Challenge Network and was also National Union of Black Students Officer; Media and Entertainment Officer, University of Bradford Student union.
Mr. Sesay thanked the Ombudsman and staff, for the good work been done to promote administrative and good governance in the country and expressed his willingness to work with the team and achieve the mandate of the Office of the Ombudsman.