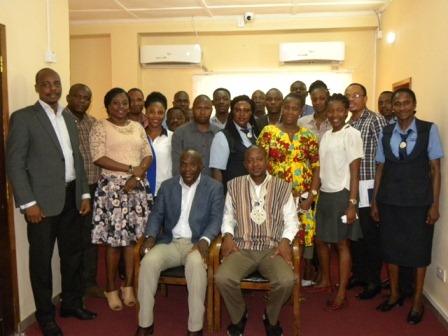 The Ombudsman of the Republic of Sierra Leone, Leon Jenkins-Johnston esq, has bade farewell to the former Executive Secretary, Dr. Sheku Sorsor Conteh.
In a short ceremony, which was held at the conference room in the office, Members of staff gave their experiences in working with Dr. Conteh ans wished him well.
The Ombudsman, Leon Jenkins-Johnston Esq. thanked the former Executive Secretary, for his service to the Office of the Ombudsman. He thanked Dr. Sheku Conteh for the support accorded him and wish him well in his future endeavors.
Responding Dr Sheku Conteh, thanked the government of Sierra Leone for giving him the opportunity to serve as Executive Secretary for about Eight years. He noted that he will miss the working relationship that had been built at the office especially with the current Ombudsman, who he referred to as his younger brother. He thanked all staff for the support given to him during his tenure and wished all success in the years ahead.